For all of these, pectolase, yeast nutrient and campden tablet are added to the must
2009 Wine recipes
Rowanberry
Ingredients:
2.25Kg rowanberries
1.2 Kg sugar
1 lemon (juice and zest)
plus campden etc
2010 Wine recipes
Kopi-o (black Malaysian coffee)
Ingredients:
20 one-cup coffee bags
1.4Kg sugar
unfermentable sugar added before bottling
This has a beautiful dark-brown colour, with a gentle coffee odour.
Kopi-o — Malaysian black coffee — needs a little sugar when black to give it body, and in this case the unfermentable sugar is not enough to ruin the taste. Instead there's a hint of bitterness in the middle, with a seductive coffee aroma towards the end, and a full-bodied taste.
I'd like to try this again, but with an alcohol-tolerant yeast and sugar added so that the sweetness is unfermented sugar in a relatively high-alcohol wine, so that it has something of the character of a liqueur.
Confused us
(Mixed-fruit wine)
Ingredients:
360g Elderberries
511g damsons
250g sloes
1326g wild apples
520g sugar, with another 100g added in racking as the taste was bitter

One friend, who's tasted a fair number of my wines, commented: "This is your best one yet".
The elderberries give this a rich, deep purple colour.
The bouquet seems bland and unpromising. The taste tells another story. At the start of the there is an exciting tingling sensation on the tongue, with a quick hint of elderberry. At the end there's the dry after-taste of sloes. Along the way is a succession of flavours. Damons and sloes are relatives, but the damsons have a different tartness, which appears in the middle. The succession of flavours happen against the rich backdrop of apple — almost as rich as the crab apple wine. The overall effect is a rich, fruity flavour that takes the mouth through a complex series of tastes, set off by a gentle medium sweetness.
Crab apple
Ingredients:
3Kg Crab apples
1.4Kg sugar, with 250g added during racking

Pale golden-brown colour, medium sweetness.
The bouquet puts me in mind of a good sherry.
The taste is clear and fresh despite the sweetness, as if the sharpness of the crab apples is working with the sugar. The effect is a bright sensation that tingles on the tongue. There is a hint of apple on the tongue and catching the nasal passages at the end of the taste, but for the most part the wine has a richness of its own which is distinct from the fruit. I have a penchant for sour fruit tastes, but one friend who disliked the apple wine (scrumble) for its sourness, spoke glowingly of this wine.
This is a recipe to repeat.
Elderflower
Ingredients:
Zest and juice of two oranges and one lemon
325ml elder flowers
1.64Kg sugar, with 100g added in racking
This has a very pale yellow colour, with a gentle wafting of elderflower in the bouquet. It has a medium-sweet taste with a pleasant liveliness round the tongue. I suspect that as a dry wine, elderflower could have a refreshing crispness, but with more sugar there is a pleasant, but not over-powering, sense of body. This would work well with more gentle-flavoured foods, and I wonder whether it might be a good companion to relatively sour fruits.
Nettle
Ingredients:
one supermarket bag of nettle leaves, which fill a slower cooker, tightly packed. Heated until the leaves wilt
10g ginger, cooked with the nettles
zest and juice of two lemons
1.754Kg sugar

The colour is a very pale greeny yellow — it might have been more green had the nettles been picked at the start of the season. Nettles themselves have little smell, but the smell of the wine is reminiscent of cooked nettles, both in soup and tea. The wine is of medium sweetness and makes the edge of the tongue tingle. The nettle flavour appears in the middle of the taste, followed almost immediately by a nasal sensation of nettle. There is a slight hint of something unpleasantly metalic near the end. On its own, the wine gives me a sense of something missing, and I have a sense that it would be well complemented by a medium-strength cheese. Next time, I would be tempted to make it a little drier, but it holds my attention pleasurably as it is.
I was pleasantly surprised by the reaction when I shared this with some friends the comments went "It really does taste of nettles. It is lovely.", with the bottle draining reassuringly rapidly. I was even more pleasantly surprised when a friend mentioned that a mutual friend had been enthusing about it... I must make some more in the spring!
Cider
(no added sugar)
| | |
| --- | --- |
| Ingredients: | pure apple juice |
This was a rather pleasant surprise. Bottled as soon as fermentation had stopped, it had a delicious apple flavour. The natural sugars would have put it around 5% alcohol, which is well below the point where yeast dies off, so it had a wonderful crisp dryness. What I hadn't realised is that the flavour deteriorates rather rapidly: I put the bottles aside and for special occasions, and nin months later it was a disappointment. This is one to try again, but to drink rapidly.
Scrumble
| | |
| --- | --- |
| Ingredients: | apple juice Sugar added — I don't know how much as the label on the demijohn got wet so the ink ran, but would have brought the Og to around 1.1 |
Elderberry
Ingredients:
1.54Kg Elderberries
3 apples
juice and zest of lemon
1.5kg sugar. plus 100g added on racking

Damson in distress
Actually a damson wine, but some things are too much to resist
Ingredients:
2kg damsons
juice and zest of 1 lemon
2 stick cinnamon
1.7kg sugar (produces Og of 1.2)
100ml tea
1 cup of tea

A subtle bouquet with a hint of cinnamon. Despite the high amount of sugar (and consequent Og) the taste is quite dry. Damsons themselves have a dry feel in the mouth, so I wonder if the apparent dryness is this, rather than actual sugar levels. The flavour is strongly fruity, though curiously unlike the taste of damsons (or maybe it is just that I am used to how they taste after stewing with sugar). If I drink slowly, the dominant sensation is of the tongue almost being sucked dry, but, despite how it sounds, that is rather pleasant. Drinking more quickly, what passes is a series of fruity hints. The sense is of a complex taste which I could imagine in a lively conversation either with a gamey meat, or a sorbet. Despite the sense of dryness, I could also imagine this working well with a relatively heavy desert, like a crumble. The is a wine to make again, perhaps with a little more cinnamon.
When I am tasting a wine, I usually work on the basis of the first few sips, sensing that it makes sense to come to a view before the alcohol has an effect on my judgement. After writing the last paragraph, I've drunk most of the glass and realise that the cumulative effect is quite different from what I have just written, and feels more like a full-bodied red wine. This may simply be the effect of the tannin, but it is now feeling much richer, as if a little stilton would help it along happily (or it would help a little stilton rather well). Now my palette has softened — presumably with the effect of the alcohol — I am processing it more in the language of a rich port.
Mumble
a blackberry cider
| | |
| --- | --- |
| Ingredients: | 4 litres blackberry juice 1 litre apple juice 250ml crab apple juice 900g sugar |
I must like this wine: I just grabbed a bottle to give to someone and realise it is my last one!
The idea was that a cider is a fermented apple juice: what happens if I ferment blackberry juice? Extracting th juice efficiently from blackberries turned out to be quite a hurdle, and I bought a masticating juicer just after this. In the end, I made up the full quantity with apple and crab apple juices.
The colour is a deep purple red. The bouquet seems dull and the taste begins as a passable red wine flavour with just a hint of something else in its acidic tartness, but then there is a rush of notes of blackbery both in the taste and aroma. The term "notes" usually implies a subtle hint: here it is a cascade of hints that make up someting very rich.
Making another attempt at this is appealing, but this year's blackberry crop is not so good, so for 2012 I am heading in the direction of a much more subtle blackberry sparkling wine, whch will make the most of those subtle notes.
Tomato wine
| | |
| --- | --- |
| Ingredients: | 3.44Kg tomatos 1 stick cinnamon zest and flesh of two lemons 1.1Kg sugar, plus 150g added during racking (may be more sugar -- the label got water on it) |
The first surprise of this wine came when I strained the must and found that the liquid was a pale yellow. It turns out that the red colour of the tomatos lies in their flesh. The second surpise is that there is little to connect the taste to tomatos. Instead there is a smell reminiscent of a medium sherry. The wine is medium-sweet, with a softness on the tongue. The beginning of the taste also gives the impression of a medium sherry, with some fruity notes towards the middle of the taste which form a rich contrast to the sherry-like smell that catches in the nose towards the end. The wine works well on its own, but would also complement something like a cheddar cheese.
This recipe could stand being repeated.
Rose hip wine
Ingredients:
1.35Kg rose hips
juice and zest of one orange and one lemon
1.3Kg sugar

The wine has a deep red-brown colour.
On their own, rose hips often don't proclaim their taste or odour until stewed into a rose hip syrup, which is at the heart both of the taste and bouquet of this wine.
The rich fruitiness gives an illusion of sweetness on this full-bodied wine. When I first tasted it I wondered whether I might have used too much rose hip, but on reflection like the depth of the taste. This is a long way from my previous attempt, where I'd used fleshy dog rose hips, which turned out to have more flesh than flavour, and end up adding ginger to boost the flavours the point that it made sense to call it a "ginger and rose hip" wine. The rose hips for this were taken from wild roses near Rhuallt village, which were quite firm when ripe, with relatively little flesh.
This is a recipe to repeat.
Chinese haw wine
Ingredients:
97g haw flakes
1.5Kg sugar
unfermentable sugar added before bottling — maybe too much
This is the wine where I think I did most damage by adding the unfermentable sugar. I was going to be very negative about it, but tried a Spanish rosé a few minutes ago, and now realise that my haw wine is more paletable than that. This may not be saying very much, except that maybe I shouldn't be too harsh. I probably should try again but sweetening another way.
There's a distinctive aroma of haw, related to the smell of haw tea. The taste has a sharpness that makes the tongue tingle before the cloying sweetness kicks in, followed ultimately by the dreaded saccharine aftertaste.
When I added the unfermentable sugar it was because the taste was a little too sharp. This was before I bought a pH meter, and I suspect that the pH was a little low, so making it a little less acid would have eased the astrinency, and I wonder whether the flavour would have softened in the bottle, removing the need to sweeten.
2011 Wine recipes
Pink bubbles
Sparkling raspberry wine
Ingredients:
2472g raspberries
1060g sugar
1 cup of tea

75g sugar added to re-ferment on bottling
unfermentable sugar added
This wine has a vivid, bright red colour, with an enticing smell of raspberry in the bouquet.
This was my first attempt at a sparkling wine, and I made several mistakes. One was that the flavour was a little too sharp when it was ready to bottle, so I used some of the unfermentable sugar and almost ruined the taste with the saccharine. The second was to put a little more sugar in at the bottling stage than turned out to be needed, which leads to a wonderfully lively wine when it is poured, but also to more sediment than is ideal. The third was to leave the bottles standing upright, which meant that the sediment floated to the top in the early stages of fermentation and formed a plug. Having encountered that problem in the first bottle I opened, it was easy enough to (gently) invert the bottles to enable the plug to float free, but this does mean it, after pouring a few glasses, it was necessary to decant the wine, so it became cloudy.
Taste-wise, it is lively on the tongue, pleasantly acid in the middle, with an aroma of raspberry towards the end. To my taste, the saccharine undermines the flavour throughout, and leaves an unpleasant tang afterwards, but others seem to enjoy it, so the wine is not a complete disaster.
For next time... I am being careful to put the bottles of sparkling wines in the 2011 vintage on their side (and turn regularly), and have used a little less sugar. If I make a raspberry wine again it will either be a still wine, so it an be sweetened with sugar, or a sparkling wine with less fruit.
Lavender flower wine
Ingredients:
140ml lavender flowers
250ml grape concentrate
2 1/2 tsp acid blend
2 tsp citric acid
1.75Kg sugar
100g sugar and juice of one orange added on racking (may have over-done the citric acid as the must tasted to citrus)
Honeysuckle flower wine
Ingredients:
1 litre honeysuckle flowers
1.53Kg sugar 234g raisins
cup of tea
120g sugar and 1.5 tsp acid blend added during racking
Elderberry wine
Ingredients:
1.3Kg elderberries
1.45Kg sugar
420g honey
150g sugar added during racking
(fruit a little too strong at bottling.... maybe could have done with less)
Spiced scrumble
Ingredients:
Apple juice
5g acid blend
876g sugar
11g cinnamon
at the end, 17g sliced ginger, 1 tsp cinnamon and a pinch of nutmeg amd 60g sugar added
Spicy sodom
Ingredients:
770g sugar
apple juice
600g elderberries
17g cinnamon powder
during racking added 300g sugar, 100g honey, 100 ml tea, 2tsp acid blend
Chocolate mead
| | |
| --- | --- |
| Ingredients: | 450g cocoa and 1.2l honey (to begin with), plus cinnamon |
This is based on a recipe from the Waishington Wine Maker. In some ways it has been a comedy of errors... not the least of which is that I kept the list of ingredients on the labels attached to the demijohn, and then threw them out, thinking, wrongly, that I had recorded what was there, so the description is a little vague.
I put all the ingredients in a demijohn. After a while I saw that it had settled, but the layer of sediment was around a third of a demijohn. I racked, and added more cocoa, water and honey to fill the new demijohn. Repeated rackings seemed to need more honey as it was aggressively dry, so I seemed to be forever adding honey, cocoa and water. I was also a little concerned by some floating white material.
In February 2014 I thought fermentation had ceased, but it was still cloudy --- which I guessed was the cocoa or cinnamon still in suspension, so I added a campden tablet and some stoppit. A few days later I heard a bubble in the airlock, and then another, so it was clearly still fermenting. This was a bit of a disaster as it wouldn't clear until the fermentation had ceased, and although it tasted suitably sweet, it was clear that it needed to complete fermentation before being sweetened to taste. The SO2 from the campden tablet comes off fairly quickly, but the stoppit makes the yeast infertile, so it was likely to go on fermenting very slowly. Perhaps I should have abandoned it then, but instead I added all the spare yeast I had, hoping this would offest the effect of yeast being unable to reproduce.
In August 2014 I saw some turbo yeast in a home brew shop, and decided to try that. This is supposed to ferment completely in around five days. I added a little: it foamed wildly and then settled down. Over the next two months I gradually added more and more. Each time it foamed vigorously and then settled down.
At the start of October 2014 I remembered reading of stoping fermentation by adding brandy --- the idea was that, if something has fermented until the yeast has more-or-less died of alcohol poisoning, then adding a little more alcohol makes sure. Before trying that, I added the whole of the rest of the 200g packet of turbo yeast. The snag is that turbo yeast goes up to 22--24% alcohol, so I am likely to need to add more honey if I want this to be sweet, and from where it is at the moment, it might need quite a lot of brandy to kill the yeast.
I have seen various references to turbo yeast being too aggressive for wine-making, with a suggestion that it is best for fermenting to maximum alcohol before distillation to make spirits, so I have no idea how this will end up.
13 November 2014 added 35cl brandy and some honey -- hoping this will stop the fermentation and sweeten. The taste is pretty harsh as if the turbo yeast was a really bad idea.
2012 Wine recipes
Kopi-o
I liked last year's kopi-o wine, apart from the unfermentable sugar affecting the sweetness, but it occurs to me that this might be better with an alcohol-tolerant yeast (Gervin) so that it ends up with a higher alcohol content, so I am using a yeast that ferments to around 21%, and intend to add extra sugar until the addition of further sugar doesn't cause fermentation to re-start in order to get the right sweetness.
Ingredients:

18 August

20 2-in-1 Malaysian coffee bags, rested in 5 litres of boiling water
Pectolase,
tannin,
2 teaspoons of yeast nutrient (more than usual as more may be needed to ferment further)
1.145Kg sugar, which takes the Og to 1.1, with the sugar in the coffee already (a further 370g will be needed to get to 21% alcohol)
Ph adjust to 3.8 with acid blend.

22 August Og now at 1.085 and a further 100g of sugar added in the primary. I normally transfer to a demijohn for secondary fermentation after 4–5 days, after the initial rush of fermentation. In this case — if it doesn't go on too long — I am inclined to add more sugar as the fermentation slows to reduce the amount to be added later. With a little luck this will ease the amount of sediment to be dealt with in the demijohns.

28 August Notwithstanding the extra sugar, the rate of fermentation has slowed, so strained the must and transferred to demijohn

20 October Added a further 50g of sugar, waiting to see if this will re-start fermentation. There is a citrus edge to the flavour, which I am guessing is a result of the acid blend: I hope this will go with some acid-reducing solution before bottling.

25 November 100g sugar added, already tasting less citrus, but still quite dry. Fermentaiton did not appear to resume.

21 December 50g sugar added, almost no citrus taste and good body, but still feels dry. Fermentation appears to have re-started.

22 February 2013 now feels pleasantly sweet. Fermentation appears to have stopped, so added potassium sorbate and campden tablet to stop it and racked. May need to adjust pH before bottling.
Gooseberry and elderflower
This is a new wine for me, triggered by a friend offering me some gooseberries and a suggestion in a web site that a dry gooseberry wine is good, and that elderflowers go well with gooseberry. A couple of the 2011 wines were perhaps a little too fruity, so I began this with an intentionally low level of fruit.
Ingredients:
150ml elderflowers (frozen)
1.6Kg gooseberries
1 teaspoon tannin
1.25Kg sugar
yeast nutrient, and yeast nutrient for flower wines
Og 1.08, pH 3.45 Struggled to get fermentation going, and re-measured pH which showed as 3.19 — added acid reducing solution which brought this to 3.33

25 November Quite aggressively dry, and lacking in body, so 50g sugar and 0.5tsp tannin added, pH is 3.30, so acceptably low, but adding 0.5tsp as it might help to go a little lower. 22 February 2013 Fermentation seems to have stopped, so added potassium sorbate and campden tablet to make sure and racked.
Apple
This year's apple harvest was really poor, so far fewer apples to work with. This is the first of two apple-based wines, and comprises simply apple juice with added sugar (and tannin). I again struggled to get the fermentation going and eventually added some acid-reducing solution — fermentation finally got going at pH 3.35, so maybe my yeast is pH sensitive.
Ingredients:
Apple juice
900g sugar, plus 100g added at first racking, 50g added 16/12/12
1 teaspoon tannin
yeast nutrient and pectolase.


20 October Started
25 November First racking 22 February 2013 Second racking, feels a little too dry, so 50g sugar added
Spiced apple
Last year I tried to make a spiced apple wine and failed to get it to start fermenting — after three weeks it was starting to have a sulphr smell, but with no sign of bubbles, so I abandoned the atte,mpt and concluded that the spices were inhibiting the yeast. Having concluded that the yeast is pH-sensitive, I tried again. Initially the levels of spices were low, but more spices were addded when it became clear that these had not stopped fermentation.
Ingredients:
Apple juice
25g ginger
3g nutmeg, 2g added 16/12/12
9g cinnamon powder, 7g added 16/12/12
2g cloves
1.09Kg sugar, 50g added 16/12/12
1 teaspoon tannin
yeast nutrient and pectolase.

20 October Started
25 November First racking 22 February 2013 Second racking, tastes a little dry, and a little under-spiced and a little lacking in body. so 50g sugar, 2 g cinnamon and 0.5 teaspoon tannin added.
Elderflower
Ingredients: (repeat of last year)
Zest and juice of two oranges and one lemon
325ml elder flowers
1.64Kg sugar, with 100g added in racking
22 February 2013 now feels pleasantly sweet. Fermentation appears to have stopped, so added potassium sorbate and campden tablet to stop it and racked. May need to adjust pH before bottling.
Elderberry
The 2010 elderberry was may have had a little too much fruitiness, and in 2011 I may have reduced the level of fruit too much. I compromised on 1.4Kg fruit. Sadly I may have got the sugar wrong as the Og is 1.15, but at the moment it is inthe primary and the total of mulp and water is 5 litres, so it will need to be diluted -- a back-of-envelope calclation is that at least another 500ml will be needed, dropping the Og to 1.045. The initial pH was adjusted to 3.70.
The citrus is added in large pieces, because the must is later hand blended (I assume this gets more flavour than simply squeezing for juice).
Ingredients:
1.4Kg elderberries
1 orange (flesh and zest)
1 lemons (flesh and zest)
1 teaspoon tannin
1.4Kg sugar
yeast nutrient and pectolase.

12 December 2012 Started

22 February 2013 Slight hint of hydrogen sulphide, so racked twice, with lots of splashing, and 1/2 tsp yeast nutrient added in case the yeast was starving. The taste is agressively dry, and could do with a liltle more body, so added 50g sugar and 1.2 tsp tannin.
Elderberry spiced mead
I had some elderberries left, so decided to make a mead with these and some spices. As with the elderberry, the Og of the must may be pushed up, but seems to be 1.1 on a pH of 3.67/ I am hoping that the modest quantities f spicves and elerberry willl add something to the mead flavour.
Ingredients:
442g elderberries
1 orange (flesh and zest)
2 lemons (flesh and zest)
35g ginger
2g cloves
10g cinnamon, 5g added towards end of primary fermentation
0.5g nutmeg added towards end of primary fermentation
1 teaspoon tannin
1.5Kg honey
yeast nutrient and pectolase.

12 December Started

The quantity of honey looks excessive, but I am simply following the rule that mead is one part honey to four parts water — it is rather denser than water so one to four by volume is more honey than one to four by volume.

21 December Added a further 150g sugar as it tasted very dry: fermentation re-started and a few hours later it was still tasting dry, so added a further 100g sugar. 7g cinnamon added at this stage as well as the cinnamon taste was very subtle.

22 February 2013 Quite dry, and relatively thin taste, so 75g honey and half teaspoon of tannin added.
Blackberry and elderberry sparkling wine
I just did a routine racking of wines and realise that I failed to record the recipe for this wine... so all I can say is that the plan was a sparkling blackberry wine, but the blackberry harvest was not good so I failed to find enough blackberries and supplimented them with elderberies to flesh out the taste. I'd frozen both elderberries and blackberries as I had found them, which helps the fruit to burst in the primary fermenter
28 November 2012 transferred to demijohn ÿ
22 February racked, adding 1/2 teaspoon of tannin and a teaspoon of acid blend as the flavour lacked body. It appears pretty clear, so will be ready for bottling soon. bottled, with 75g sugar added
Limoncello
Ingredients:
750ml vodka
Zest of 10 lemons (check)
Syrup of 351g sugar in 575ml water (total 926g, actually used 433g Steeped for 50 days vodka, then syrup added 11/1/13 Steeped until 8 April, then sieved and a further 30g sugar added
Smell: tantalising aroma of lemon on top of Taste: medium sweet, smooth texture, enlivens the mouth, lemon taste is subtle -- but much of the aggression I associate with vodka has gone. There is a lovely hint of lemon in the nasal cavity towards the end which lingers, in conversation with the after-taste of vodka.
2013 wines
Honeysuckle
More-or-less a repeat of last time...
Ingredients:
1 litre honeysuckle flowers
1.5Kg sugar
236g raisins
1 tsp tannin
juice and zest of two oranges and one lemon
2 tsp of acid blend and 0.5tsp of citric acid to bring pH below 4
yeast nutrient (normal and one for flower wines)
0.5tsp pectolase
campden tablet
Ingredients mixed with boiling water; pectolase, nutrients and campden tablet added when it had cooled

3 August 2013

4 September 2013 racked. A little sweet, but is still clearly fermenting.
Elderflower
More-or-less a repeat of last time...
Ingredients:
325ml elderflowers
1.5Kg sugar
1 tsp tannin
juice and zest of two oranges and one lemon
2 tsp of citric acid (I had run out of acid blend) to bring pH below 4
yeast nutrient (normal and one for flower wines)
0.5tsp pectolase
campden tablet
Ingredients mixed with boiling water; pectolase, nutrients and campden tablet added when it had cooled

3 August 2013

4 September 2013 had stopped fermenting and was starting to clear. I started racking on the assumption that more sugar was needed but in fact it tasted sweet, so added more yeast and fermentation resumed.
Lavender mead
Last lot of Lavender wine tasted too much like ginger. I think I added more lavender at the primary stage (recipes seem to suggest 140ml of flowers, and I suspect I added more and failed to record)
Ingredients:
120ml lavender flowers
1660g honey
1.5 tsp tannin
juice and zest of two oranges and one lemon
2 tsp of citric acid (I had run out of acid blend) to bring pH below 4
yeast nutrient (normal and one for flower wines)
0.5tsp pectolase
campden tablet
Flowers sat in bowl with honey for 3 hours in slow cooker on high to extract flavour. This and other ingredients then mixed with boiling water; pectolase, nutrients and campden tablet added when it had cooled

Started 3 August 2013

4 September 2013, racked, already a little dry, and body a little lacking, so added 88g honey and 1/2 tsp tannin.
Mangosteen
Making this feels a little sad. I'm expecting to need to move soon and have some mangosteen pulp in the freezer for experiments on making mangosteen jam with Yip. At this stage it is unlikely that this will be needed before I move, and eating several kilos of pulp sounds excessive, so instead I am trying wine-making --- a little nervously as the flavour is quite volatile, so it could all end up with no taste.
Ingredients:
1920Kg frozen mangosteen pulp
900g sugar (plus 40g in racking)
pectolase
tannin
nutrients
campden tablet


Started 4 September 2013, Og 1.1, pH 3.45 The initial taste as the lightness and clarity of mangosteen. I had wondered whether it might need lemon or orange adding, but the taste is good and subtle, which leaves me thinking it might be overpowered by these.

When mangosteen starts to go offer, a bitter edge appears in the taste, an I can detect a hint of this. I am curious to see whether the effect of the campden tablet might be to reduce this (which is possible if it is a result of oxidation, just as the campden reverses the browning of apple or pear juice). In any case, all my instincs are not to let this sit very long on the pulp, so I will add more yeast than I otherwise might, and get the yeast starter going at the same time as adding the campden tablet, so it will have had 24 hours in whch to breed by the time it is pitched into the primary.

20 September 2013 I came back from a week away and found that fermentation seemed to have ceased --- it was clearing towards the top of the demijohn, with sediment settling to the bottom, but still some froth on the top. I racked on 18 Sept, but most of the sedimant was still in suspension and siphoned over. I had the impression of some new froth forming on the top but the specific gravity is down to 1.01, so I guess it has more-or-less finished fermenting, but there is a sweetness in the taste which led me to wonder of fermentation had ended early, but maybe that is something else sweet in the fruit. The taste doesn't remind me of mangosteen, but it is really attractive. I guess the extra yeast I added has led it to ferment much faster. I do wonder whether this has also led to more sediment than usual.

18 October 2013 with Og at 1.05 and settling well it seemed as if fermentation was ended. Howver, it still tastes sweet, so I racked it — filtering through a fine sieve to remove as much dead yeaste as possible, and then added 20g sugar to see f this would re-start fermentation — I am puzzled as the taste implies more sugar than the specific gravity.
Blackberry and crab apple
I like the taste of blackberry, and have tended to include it in full-bodied wines with a very fruity flavour. I've been wondering about a more subtle blackberry wine, so this is an experiment in being more discrete.
Ingredients:
1.7Kg blackberries
2 oranges (zest added, then the fruit peeled and the rest of the fruit added)
420g crab apples
1.1kg sugar (Og 1.08) tannin
campden tablet
pectolase
yeast nurient

Started 20 September 2013 Blackberries initially frozen (to break them down) and then allwed to thaw in primary before adding 4.5l of boiling water and breaking the fruit down with a hand blender.

The blackberry flavour was too weak --- the quantity is a ittle less than the 2Kg some recipes suggest, and the recent cooling of the weather means the most recent batch of blackberries were already tasting less strong than those already in the freezer. I added the flesh and zest of two oranges which took the flavour to the edge of being too citrus. Adding 420m*g crab apples filled out the taste, and took the pH to 4.35
Crab apple wine
The crab apple harvest was dismal last year, but as they are plentiful again now, I thought I would try again. My last effort was on the sweet side --- in hindsight, I think it the sugar added during racking was a mistake. So I am trying again, with the same quantity of crab apples, but less sugar to begin with. The sugar levels are hard to guage. To help break down the fruit I froze it and thawed it by dissolving the sugar in boiling water in the primary and tipping the frozen crab apples in, and then hand-blending once they had thawed. The snag is that it is more-or-less inevitable some more sugar will come out of the fruit in the primary as the flesh takes far more to break down than softer fruits, and I assume that more sugar will come out once fermentation starts. Hand blending produces a lot of pulp, so the must is quite viscous --- the Og figure comes from pushing the hydrometer down and leaving it for a while as it came up slowly, which means it will err on the high side. I've also added only 4.5 litres of waterm as 3Kg of crab apples has quite a volume, so the odds are that, by the time this has been strained, I will be adding water to the demijohn, but that seems better than adding more water and having too much liquid.
Ingredients:
3kg crab apples 1.2kg sugar (Og approx 1.1) 1 tsp tannin
campden tablet
pectolase
yeast nurient

Started 22 September 2013
Eve's delight — spiced crab apple, apple, elderberry and orange
I thought I didn't have enough elderberries for anoter batch of elderberry wine, and so picked some crab apples, juiced some apples and hoped that together they would have enough flavour. Then I measured what was in the freezer: 1.7Kg of elderberries, which, on its own, would give too much flavour. So instead I am fermenting apple juice, crab apples, some elderberries and spices, aiming for something that will be pleasantly warming.
Ingredients:
3 litres apple juice 900g crab apples 274g elderberries zest and flesh of two oranges 10g cinnamon 5g nutmeg 5g tannin (generous heaped teaspoon) 2g cloves 750g sugar

Started 18 October 2014 500g sugar water and spices mixed and dissolved in boiling water which was allowed to cool naturally before adding to the primary, to help release flavours, and then another 250g add to take the Og to 1.09. Acid-reducing solution used to increas the pH

23 November 2014 50g sugar added as it tasted a little aggressively dry
Mysterious Elderberry
Forgot to note ingredients at start 100g sugar added 28 November
2014 Wine recipes
Dry damson wine
This year I've had access to lots of damsons, which creates a range of possibilities. Previous years' damson wines were very good, but would like to try something different so have gone for a lower fruit content, with the thought of heading to a light, dry, crisp wine.
Ingredients:
1.3kg damsons
1.3kg sugar (Og approx 1.09)
1 tsp tannin
campden tablet
pectolase
yeast nurient
acid reducing solution --- raised pH from 2.9 (too low for the yeast) to 3.5
Started 22 August 2014
Started 24 september 2014, racked as there was a lot of sediment, 80g sugar added
NB THERE ARE PICTURES OF THIS STARTING AND BUSY FERMENTING
Foel Gollog elderflower wine
My friend Peter finally moved from Foel Gollog in North Wales recently. There just before he finally left I harvested some elderflowers --- much more fragrant than those near Leicester had been --- with a view to re-visiting a familiar elderflower wine recipe, though starting this a little on the dry side to keep my options open. I don't have an Og figure as I used my smaller fermention bucket and put a little less than 5 litres of water in so that it would not try to overflow in fermenting --- having the plan to put more water in rather undermines having an Og figure.
Ingredients:
310ml elderflowers
1.5kg sugar
flesh andzest of two oranges and one lemon
1 tsp acid blend — reduced pH to 3.45
1 tsp tannin
campden tablet
pectolase
yeast nutient
vitamin b12 yeast nutrient for flower wines
Started 23 August 2014
Racked 1 November, but it seemed still rather sweet
10 November 2014, as the wine still tasted sweet, but was clearing, I racked it again (to remove dead yeast from the bottom of the demijohn) and added Lalvin k1-v1116 yeast
Sweet Damson
Going for a full-bodied wine
Ingredients:
2kg damsons
1.2kg sugar 1 teaspoon tanin pectolase nutrients campden tablet
At start: Og 1.1, pH 3.4 (after adding acid-reducing solution)
24g ginger, two teaspons cinnamon powder and 120g sugar added a few days into primary fermentation, as the fermentation was slowing, which gave a moment to add more sugar, and it seemed to make sense to add the spices by boiling them with the sugar to sterilise.
fermentation had ceased by 3 october, very dry, with specific gravity 0.98 so added 240g sugar plus 1/4 teaspoon cloves and 1 teaspoon cinnamon on putting in demijohn
23 November 2014
a further 50g sugar added
Rich blackberry wine
Ingredients:
2.2Kg blackberries
1.3Kg sugar, 300g added at end of primary
3 teaspoon cinnamon
1 teaspoon tannin
pectolase
yeast nutrients
campden tablets
The idea is a sweet, high-alcohol, high-fruit liqueur-like wine. The quantity of fruit is not so transferable as these had a very good flavour, which points to a more flavoursome wine than this weight of fruit suggests.
Started 5 October 2014 The quantity of pulp means the Og (1.1) doesn't mean that much, but the pH was raised with acid-reducing solution to 3.4
14 October, Put into demijohn having added 200g sugar the precious day and another 100g today
23 November 2014 racked and another 100g sugar added.
Chocolate Mead (again)
Ingredients:
470g cocoa
1.4l honey (254g added at end of primary fermentation and 10g added 14/11/2014)
3 teaspoon cinnamon
yeast nutrients
campden tablets
This is a second attempt at chocolate mead, but using an alcohol-tolerant yeast (rather than a turbo yeast), aiming for something smooth and liqueur-like.
This time, I've started using a primary fermentation vessel so that I can strain the must when the fermentation dies down. Last time I found a large amount o sediment in the demijohn that didn't settle --- I guess this was a mix of yeast and cocoa powder. Straining it means a way to remove a large portion of the liquid, so that I need to add less honey/cocoa later.
The cocoa was made up to a paste with hot water, thinned and then added to the honey. Once it had cooled, there was a thin layer solidified on the top. I suspect this is cocoa butter, from residual fats in the cocoa. I now wonder whether this is the white material I had seen floating in my last attempt at chocolate mead. Here is an image of this after I had broken it in order to add yeast: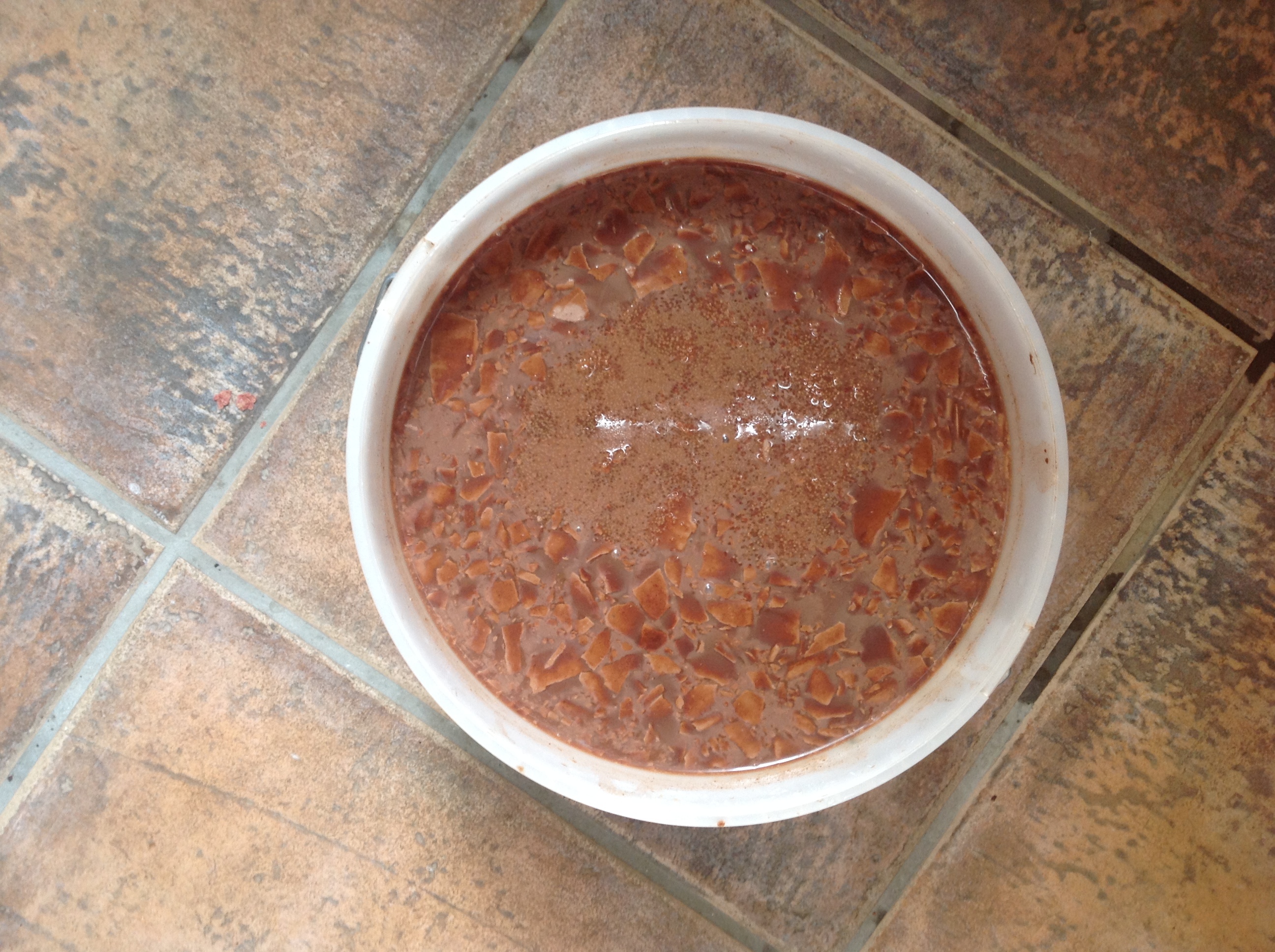 .
I subsequently sieved the top layer of the mead to remove this, guessing that the oils might inhibit fermentation. I used the same yeast as for the rich blackberry wine, but it as been much slower to get going --- though warmth did the trick after a few hours: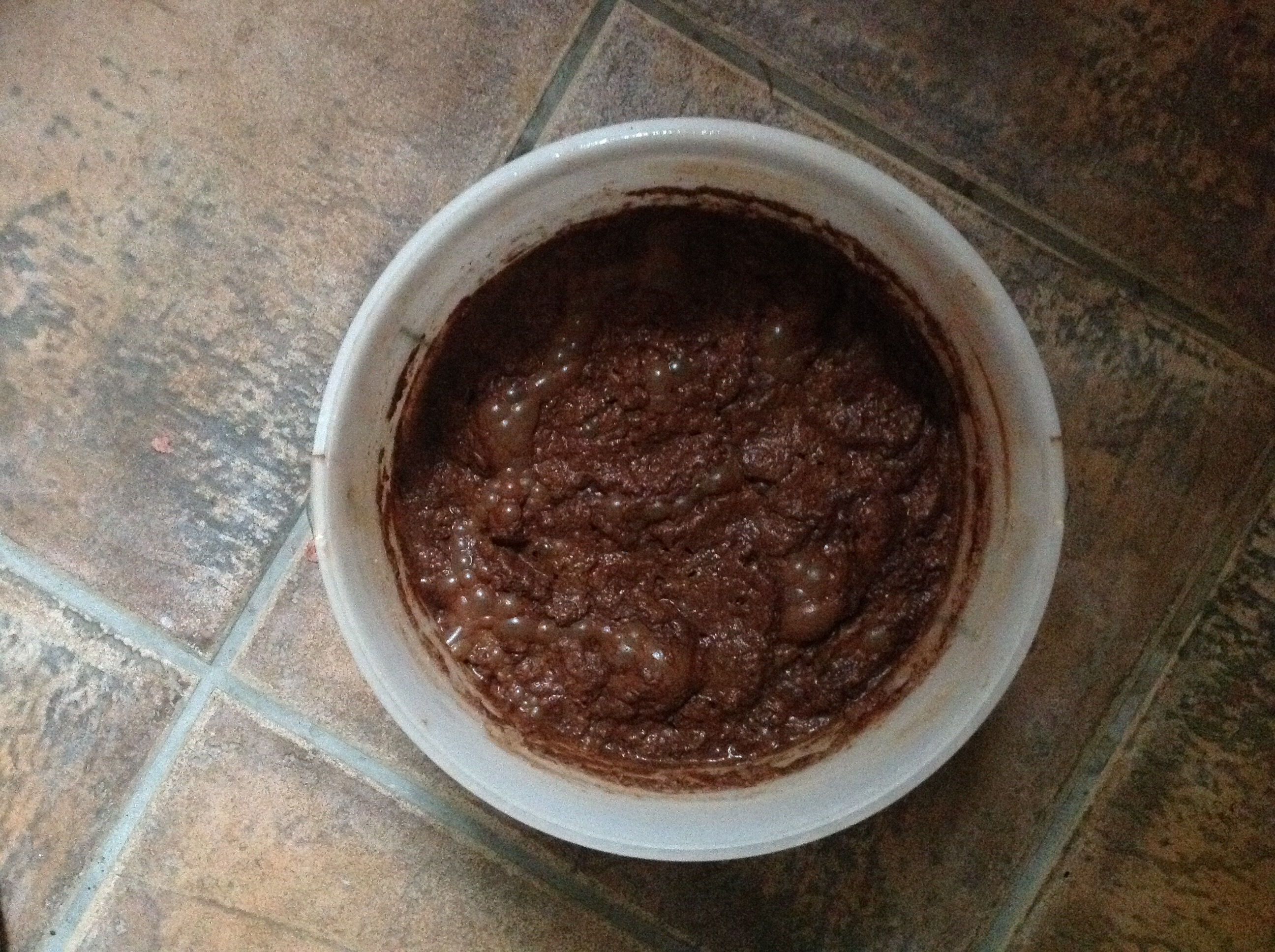 Started 5 October 2014
14 October, Put into demijohn By this stage fermentation had pretty much stopped in the primary, which was aggressively dry to taste, so I added 254g of honey the day before. The result was rather spectacular: towards the end of the filtering of the must I left it to drain in a sieve, and was not expecting to return and find the sediment bubbling: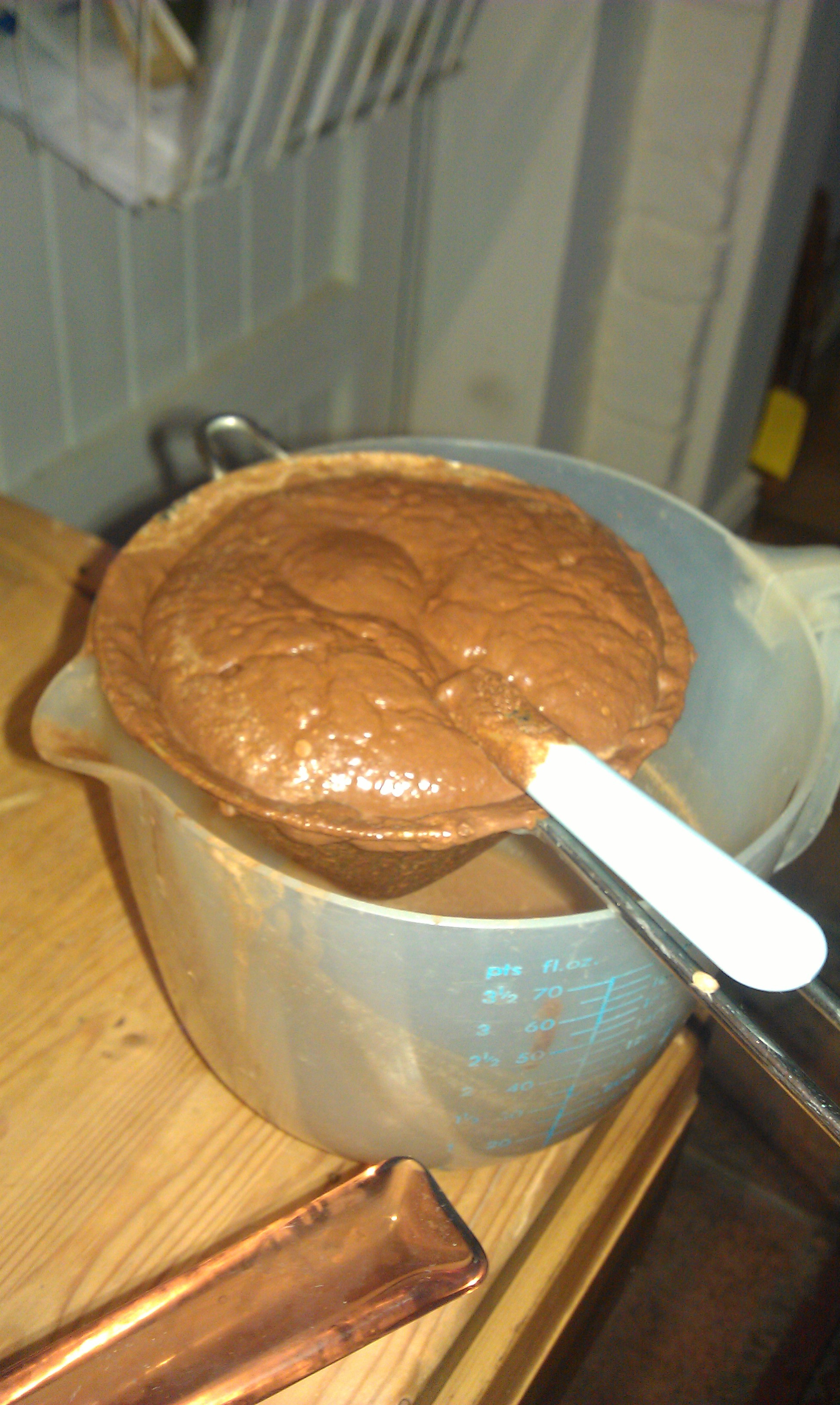 I also can't remember the time when the contents of a demijohn were foaming wildly:
22 October 2014 the amount of frothing had eased, so there would have been a case to top up with water, but it was already starting to taste quite dry, so I added 210g of honey.
Elderberry
Ingredients:
1417g elderberries
1.4kg sugar, plus 100g added late in primary fermentation
ginger, nutmeg and cinnamon*
zest and flesh of two oranges and one lemon
1 teaspoon tanin
pectolase
yeast nutrients
campden tablet
3 teaspoons acid blend
*This was a little accident prone... I started it at the same time as the damson and sloe wine (below) and absent-mindedly put the lemon and orange and the spices destined for that into this one. I managed to retrieve much of the spice mix, but this has not set off as envisioned.
The initial pH was high, so three teaspoons of acid blend were added, which reduced this to pH3.56
Started 16 October 2014
20 October 2014 100g sugar added
Spiced damson and sloe
Ingredients:
1.3Kg sugar, plus 100g added late in primary fermentation
133g damsons
435g sloes (though these were fo two distinct sizes: I don't know if the larger ones are a large strain of sloe or a small strain of damson
17g ginger*
5g cinnamon* (another 8g added later)
1g nutmeg* (another 1g added later)
1 teaspoon tanin
zest and juice of two oranges
pectolase
yeast nutrients
campden tablet
3 teaspoons acid blend
*By mistake I put the in the elderberry, having boiled them in some water --- I retrieved much of this as it was quite viscous, but the quantitites will be a little less than the list here suggests. I added some extra cinnamon, but had no more ginger.
The initial pH was low, so acid-reducing solution was used to bring it up to 3.26
Started 16 October 2014
20 October 2014 100g sugar added
23 October 2014 racked and a further 150g sugar added as it was tasting dry
Spiced elderberry mead
Ingredients:
410g elderberries
1.4Kg honey 1 orange zest and flesh
1 lemon zest and flesh
13g ginger
1g ground cloves
8g cinnamon
0.5g nutmeg
1 tsp acid blend (reduced pH to 3.95)
1 tsp tannin
pectolase
yeast nutrient
campden tablet

Started 16 October 2014
Blackberry wine
Ingredients:
1270 g blackberries
1.28Kg sugar
1 tsp tannin
pectolase
yeast nutrient
campden tablet
Started 16 October 2014
Elderflower mead
| | |
| --- | --- |
| Ingredients: | 325 ml elderflowers 1650g honey flesh and zest of two oranges and two lemons 1 teaspoon tannin campden tablet 1/2 teaspoon pectolase (less needed as there is little fruit in this wine) yeast nutrient, and vitamin B12 nutrient |
The elderflowers around Leicester were much less aromatic than those in north Wales, which leaves a problem: should I use the same quantity of flowers as usual, and risk someting a lot weaker, or add more flowers, given that elderflwoer wine with to much elderflower is pretty unpleasant. My compromise us to make a mead rather than a wine, which offers its own flavour, and potentially add some more of my frozen elderflowers if needed once the primary fermentation has got under way. The obvious solution of tasting the initial must is not as easy as it seems as the combined effect of the honey, orange and lemon is already quite strong, but that might become clearer as the quantity of sugar (from the honey) goes down. Started 1 December 2014